THE VARIOUS BUSINESSES OF THE UASHAT MAK MANI-UTENAM ECONOMIC DEVELOPMENT CORPORATION
The SDEUM is proud to contribute to the development of several economic projects in the region. Learn more about Plan Xpert, Atautshuap, Gestion Innue Campement and Akua Safety, the four entities of the SDEUM.
Xpert Plan
Plan Xpert offers technology analysis services to find resources that will optimize your company's performance and profitability. Its partners and service providers all meet high standards.
Atautshuap Store
Established in 2020 by the SDEUM, Atautshuap (which means "store" in Innu language) offers in one place four well-known banners in the ready-to-wear clothing sector. They are Chaussures POP, Go Sports, Chlorophylle and Centre du Travail. The business, established at Place Uashat near the IGA Extra, allows to dress the family or the worker from head to toe with a large offer of mid-range products. Atautshuap is primarily targeting the Sept-Îles region, but also the communities of Schefferville, Minganie and the Lower North Shore.
Innu Management Camp
Founded in 2021 by the SDEUM, Gestion Innue Campement (GIC) provides food and janitorial services for more than 600 employees working for Minerai de Fer Québec in Fermont. Through a partnership with the multinational company Sodexo, GIC employs more than 120 people, the vast majority of whom work in Fermont on a commuter basis. With approximately 30% of its workforce being Innu, Gestion Innue Campement aims to develop a complete, professional and efficient expertise in the management of workcamps located on its Nitassinan (traditional territory).
Akua Security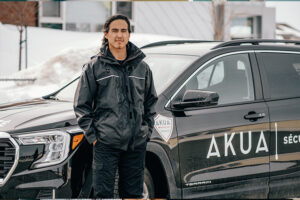 Private security agency, Akua Security ensures the security of infrastructures, businesses, institutional and administrative establishments as well as events that take place in the region. The company hopes to eventually expand its field of action to the entire North Shore.